Real Life Example
Real Life story – Eloise Meldrum – Trainee Dental Nurse at SmileWisdom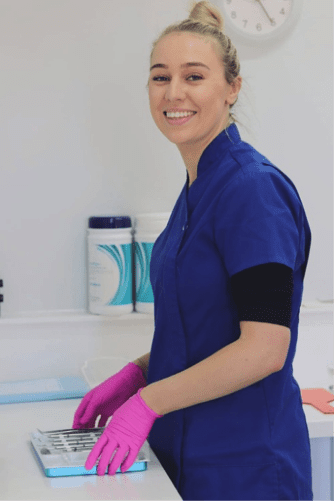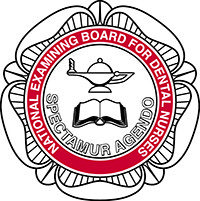 Eloise is a past trainee dental nurse with London based SmileWisdom Academy of Dentistry and Dental Nursing. Eloise is shortly to sit her final OSCE exam for the Level 3 NEBDN Diploma in Dental Nursing.
SmileWisdom is a leading NEBDN accredited training college in Central London where Eloise attended weekly classes to train as a dental nurse.  
Eloise's story
As I was growing up I never thought I would enter the medical world. Initially I thought I would have to study for years before being able to step foot inside a dental surgery. As it happens this is not the case!
I started my search into dental nursing by firstly understanding the role of a dental nurse. This would cover what you do as a dental nurse, does it match my interests & how long it takes to be qualified!
I did a trial day at City Dental in 2016 where I observed the head nurse and what she did. I'm not going to say it was love at first sight, but it definitely intrigued me more than I thought. So a few weeks later I joined their team where I worked alongside the Principal dentist, Dr. Sahami.
Dr Sahami supported me throughout my time at City Dental ensuring I was being the best I could be and motivating me to be better. I was (and still am) very lucky to be working with Dr. Sahami, I found a friend within the workplace but also someone who mentors me daily.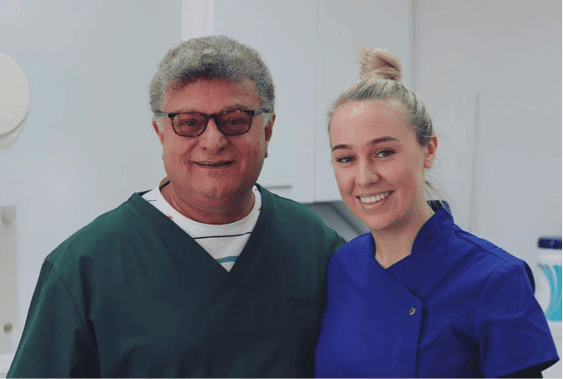 I then quickly figured you have to attend an accredited NEBDN course to become a qualified dental nurse. I looked all over London (as there weren't any courses at the time in my area) and landed in with SmileWisdom hosted now at the BDA in Wimple St, the home of dentistry in the UK.
During the course I learnt all the essentials of dental nursing as well as the theory behind why we do what we do.
This course taught me so many valuable lessons that I carry with my every day. My tutor Dr Liz Moran was exceptional. Her teaching method is informative and fun and she has an incredible knowledge. Liz will also support you whenever needed.
The Admission Director is Becky, (a fully qualified and experienced dental nurse and practice manager) supported me throughout the course and made sure I was on track and happy. The SmileWisdom team made achieving my qualified as a professional dental nurse easier by making the finance payable every month until the end of the course. This for me while living in London on a trainee's wage helped a lot!
SmileWisdom college location was also very central and convenient for my work at the time which made the accessibility much easier, and motivated me to go.
My dentist at the time in London, Dr. Tamsin Vaughan-Williams helped me to submit my eROEs (which is challenging!) and fully supported me every day. She also coached me where I needed to improve, and told me too when I was doing a great job. Without her, I wouldn't have been able to take my exams. It is very important that you are placed (as a trainee) with a dentist who can be your mentor and who you have a great relationship with. Without this relationship becoming a dental nurse is harder.
I absolutely love my job and my career choice, and if you are reading this now considering whether to go down the dental nursing route, I would highly recommend doing it! Whether you are male or female there is nothing stopping you being your best self!
SmileWisdom starts a new dental nursing course every month, hosted at the BDA at 64 Wimpole St London W1G 8YS
With SmileWisdom once you have commenced your Dental Nurse Diploma eRoE you are eligible to apply for a TFL 18+ 30% discount travel card.
Please visit Eloise Instagram @Eloisesworldx
For more information, or to apply to join the Dental Nursing diploma contact:
email: Becky@SmileWisdom.co.uk
call 0207 205 2299
www.smilewisdom.co.uk