About the Course
Achieve your NEBDN Certificate in Dental Sedation Nursing with SmileWisdom, from anywhere in the UK, through teaching held live online with your tutor in a fully interactive classroom setting.
Live online teaching with SmileWisdom means your tutor, yourself, and your fellow students will be interacting through a virtual classroom online. You will be able to see each other, by utilising your device camera, enabling you to ask and answer questions from your tutor just as you would face-to-face. Our live online learning platform means you can study from anywhere in the UK, without having to spend time and money on commuting. Perfect for fitting further education around a busy work life.
Our dental nursing courses are accredited by the National Examining Board for Dental Nurses (NEBDN) and equivalent to a Level 4. We aim for all our students to have an outstanding learning experience with SmileWisdom and pass their examinations.
What is Dental Sedation Nursing
Dental sedation is a form of conscious sedation useful when treating very anxious patients or performing more complex treatments. Sedation helps the patient to relax, fall into a form of sleep whilst still being able to respond to any prompts given. A patient who has had sedation usually cannot remember what has occurred whilst they were under sedation.
There are two kinds of dental sedation that can be offered in practice:
1. Intravenous (IV) Sedation
2. Inhalation Sedation.
A dental practice may offer one or both types of sedation. Inhalation sedation is most common with children and IV sedation with adults. An interesting note is that pregnant women are not allowed to have inhalation sedation even though it's the same gas that is given during childbirth.
There are various circumstances where dental sedation might be suitable:
– A patient who doesn't want to remember
– Complex dental treatments such as oral surgery, dental implant treatments, bone augmentation, root canal treatment, etc.
– When treating children for advanced dental treatment
– Patients who are extremely anxious (see dental phobia below)
Sedation for patients with dental phobia
Some patients express a dental phobia and find it hard to have any treatment done without sedation. Sedation can be helpful in these circumstances to begin with, occasionally the patient will overcome their phobia and be able to have treatment without sedation in the future.
Who is the course for
The SmileWisdom accredited course is appropriate for GDC registered dental nurses who:
Want to gain valuable knowledge and expertise to assist in procedures with dental sedation
Are interested in working with children for advanced dental treatments
May want to work in a practice that offers dental sedation
What the course involves 
The course comprises of 6 lessons of 3 hours each, held live online with your tutor and is fully interactive. This means you can join the course from anywhere in the UK.
You will gain in-depth knowledge of:
– The role of conscious sedation in dentistry
– The range of pain control and techniques for managing anxiety
– How patients' general health may influence the use of dental sedation
– How to practice effective conscious sedation
– The importance of following relevant guidance relating to all aspects of providing dental sedation
– How to assess patients who need dental sedation
– The recovery assessment of a patient from dental sedation
and more!
Record of Competence and Examination
For this course you can choose which area of dental sedation you want to cover for your qualification. Your options are:
1. Certificate in Dental Sedation Nursing (covers both types of dental sedation)
2. Award in Inhalation Sedation Dental Nursing
3. Award in Intravenous Sedation Dental Nursing
All 3 qualifications are equivalent to a Level 4.
Electronic Record of Competence 
You will be required to complete a work-based electronic Record of Competence (RoC). Your requirements for this will be dependent on which qualification you register for (as above).
There are four sections to the RoC:
Practical Competence Assessment Sheets (PCAS)
Case Studies
Directly Observed Clinical Skills (DOCS) Assessments
Supplementary Outcomes
Examination
This is a 90-minute written examination composed of two sections:
Part A – 45 multiple choice questions (MCQ)
Part B – 30 extended matching questions (EMQ)
Examinations are held twice a year in March and September.
Award of qualification 
Complete and satisfy the requirements of the RoC
Pass the examination
Awarding Body
National Examining Board for Dental Nurses (NEBDN)
Apply Now
Apply online today! If you have any questions, please contact our friendly team at training@smilewisdom.co.uk or call 020 7205 2299.
To enrol on the course, you will need to:
Be a registered dental nurse with the General Dental Council (GDC)
Be legally allowed to work in the UK
Have a supportive employer to supervise your electronic Records of Competence (RoC) completion
Have a valid First Aid/Basic Life Support (BLS) certificate of completion
Be competent in written and spoken English to be able to communicate effectively with patients, their families and dental and healthcare professionals.
Be self-motivated
Key Information
Course: Dental Sedation Nursing
Qualification: NEBDN Certificate in Dental Sedation Nursing/Award in Inhalation Sedation Dental Nursing/Award in Intravenous Sedation Dental Nursing – depending on option chosen
Level: Equivalent to level 4
Start Date: Saturday 2nd March 2024
Duration: 6 months
Number of Hours: 18
Day: One Saturday every 4 weeks, 9am-12pm
Where: Live online with a tutor teaching all your classes
Target Exam: September 2024
Price (incl. VAT): £900
Exam Fee: £205
Total (incl. VAT): £1105
Payment Options: Monthly instalments or full payment as preferred
Tutor: Emma Davis, Dip. DN, PTLLS
*Live Online lectures take place in a 'virtual classroom' on our teaching platform.
Our live online study mode means you can study with us from anywhere in the UK. Our advanced teaching platform will let you feel like in a real classroom, without having to spend time and money on commuting. Perfect if you are looking to combine good quality education with a busy lifestyle.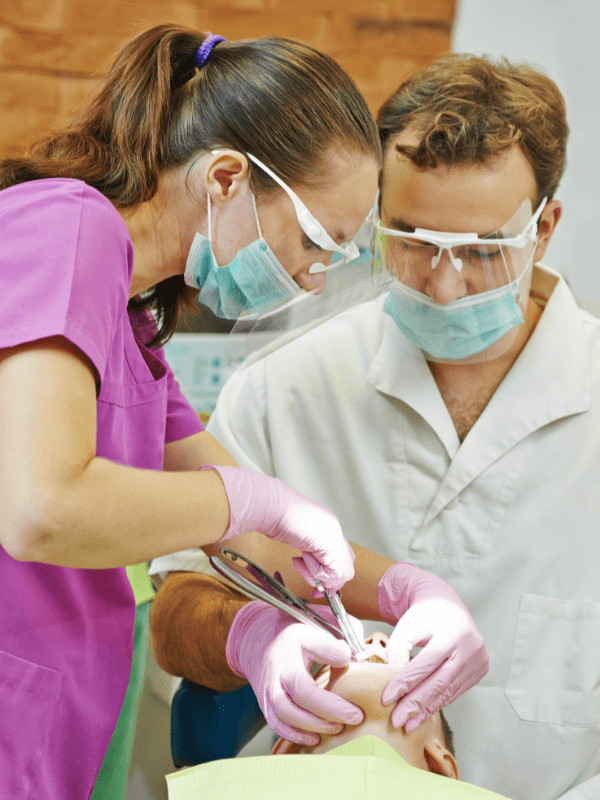 Radiography and the impact on Dentistry Welcome to
Why Fluoride Varnish Application is a great addition to
Raising Awareness of the Importance of Oral Health