CPD Course in Dental Photography feedback
At Smilewisdom we believe nothing is more important than the quality of our training.
The best thing for us at the end of a course or session is hearing from happy students. We love to support our students and graduates in every aspect of their career so it really is wonderful to hear we are doing a good job.
Thanks so much for the feedback to all our students – we have loved teaching you.
If you want to join the Smilewisdom family get in touch with Becky@smilewisdom.co.uk to discuss enrolling.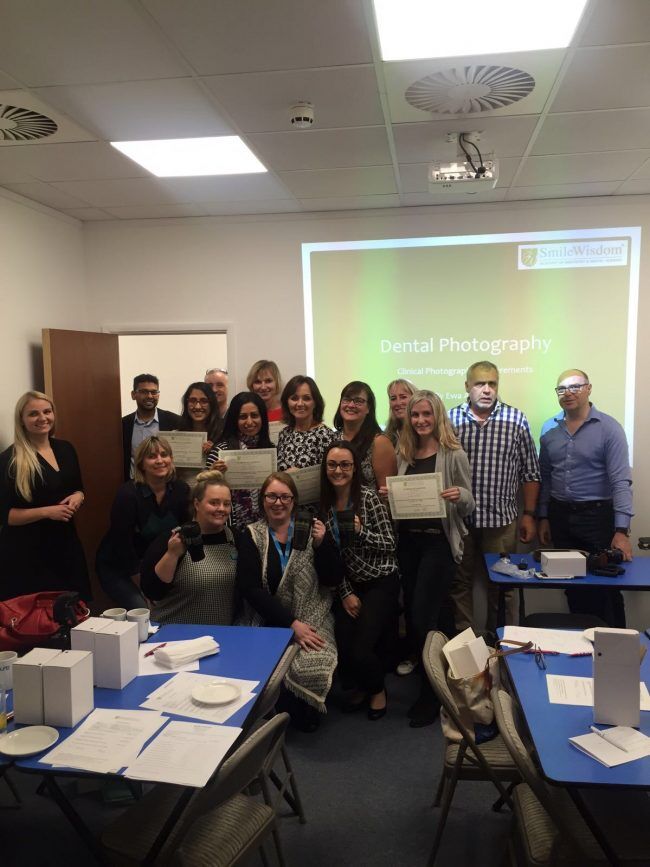 Our Latest Feedback
What did you like most about the course?
I liked everything, very informative, interesting and definitely useful.
Interaction.
Good venue, great speakers, good lunch, a very useful study day.
Roger very helpful.
A very informative relaxed enjoyable study day, both speakers enjoyable to listen to and very knowledge of their topic.
Advice on camera.
Informality, felt at ease.
Learning new things which will improve the quality of my photography in clinical environment.
Understanding camera settings, principles of general photography.
The theoretical section rather than hands-on.
What is the most useful action point you will take away from this event?
Camera selling, patient positioning.
Decontrolled settings.
Diffusers (black-out).
Info regarding dental settings in camera, how to get a clear photo of a tomato with a blurred background.
Camera settings.
Camera settings and workshop, lots of information given which I will be able to put in practice hopefully!!!
Do more photography. I probably need a new camera!!
Understanding impart of iso, shutter speed and aperture.
Rule of thirds, knowing what to look for now buying a camera.
Use of different settings of my camera.
"Overall Very informative."
"Brilliant course"