SmileWisdom Academy of Dentistry & Dental Nursing named Customer Provider of the Year at Dental Industry Awards 2022.
Thursday 1st December 2022 was an auspicious day for all at SmileWisdom Academy of Dentistry & Dental Nursing. We are extremely proud to announce that SmileWisdom were yesterday declared the winners of the Customer Service Provider of the Year award at the prestigious Dental Industry Awards 2022.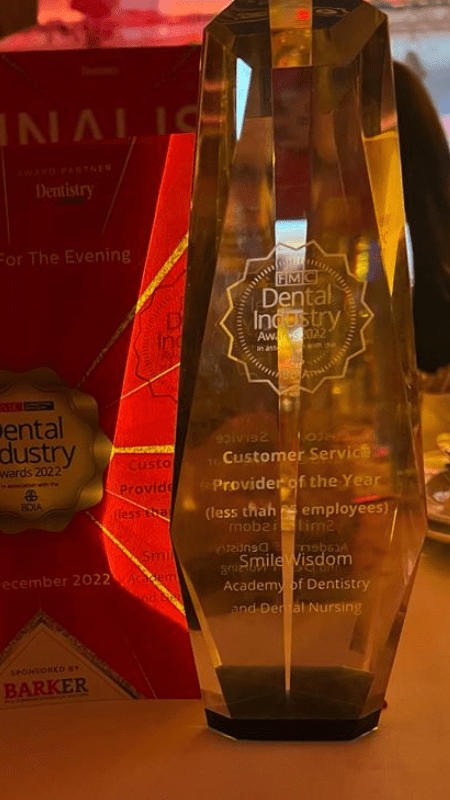 At a glittering awards ceremony held in central London, UK, at the Park Plaza Riverbank ballroom last night, our outstanding dental team was recognised for its attention to high-quality teaching, unparalleled customer service and in-depth knowledge of dental nursing careers.
The Dental Industry Awards are one of the key events of the dental calendar, recognising excellence in the UK dental industry. It is the largest and most acclaimed dental awards in the UK. This year saw the highest number of entries ever recorded in their history, making shortlisting a very hard process and even more of a fantastic achievement for our hard-working team.
It's a truly exciting moment in the history of SmileWisdom to witness our dedicated, diligent and enthusiastic team be formally acknowledged for their achievements. This award is a testament to the exceptional quality of the work that every single member of the team does in going above and beyond for dental nurse students and dental practices alike. Building community within, and surrounding, a brand is not an easy task and we are thrilled to be recognised for the work we do towards customer experience.
We understand dentistry from the get-go, the majority of our team members began their careers as dental nurses and are devoted to helping students achieve their dream careers, setting them up for an exciting, professional future in dentistry. The team support lifetime dental nurse development, from the NEBDN diploma through job sourcing, CPD, postgraduate training and more. We do this because we truly value and utilise the skills of dental nurses and trainees, always placing them at the centre of our operational strategy.
Mike Hutter, Managing Director, said, "To be recognised for the effort the whole team put in across all communication channels to our customers is truly wonderful. Customer Service Provider of the Year is the best award to win because it's all about your customers and that's what matters the most. Our business is all about education and supporting our customers, the students, where we can."
Communication is at the heart of everything we do at SmileWisdom. Whether we have 3 students or 400, being available to meet their needs and build relationships is what makes us stand out. An engaged student is more likely to reach their goals and feel happier on the journey.  We are constantly looking for ways to enhance our student support and go the extra mile when it comes to customer service.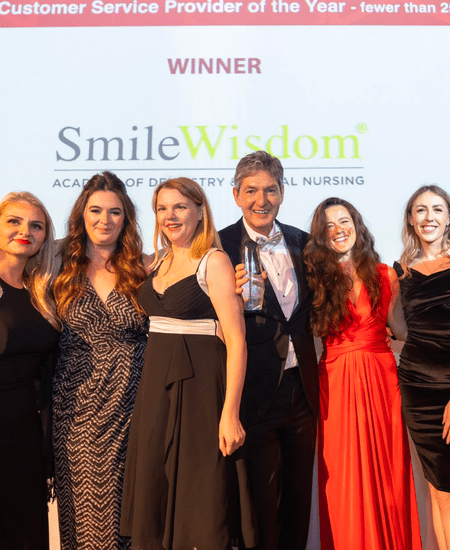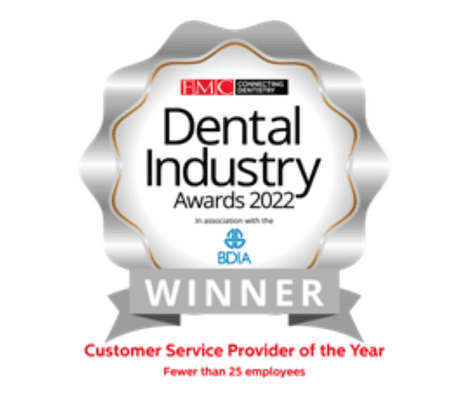 Our KPI data ensures we stay on track to meet the customer's needs but nothing speaks volumes more than the fantastic feedback and recommendations we regularly receive from our customers. We want our students to go out and make a difference in the world, with our dedicated customer support, guidance and encouragement we help them do just that.
Congratulations to the entire team on this memorable achievement. What a fantastic early festive gift!