Our History & Background
SmileWisdom is dedicated to the training
& education of dental professionals
The unique concept of SmileWisdom was created in 2011 when founders, Ewa Assaker and Mike Hutter, first met. It would be a further five years though before the SmileWisdom vision really came to life.
Ewa was a GDC-registered dental nurse with a strong medical background. Mike had extensive experience of creating and running a successful high street brand of dental practices.
In 2013, after gaining approval from the National Examining Board for Dental Nurses (NEBDN), Ewa ran her first dental nurse training course to award the NEBDN Diploma in Dental Nursing.
2016 saw Ewa and Mike decide that the time was right to widen the training business, creating SmileWisdom Academy of Dentistry and Dental Nursing. Together they set up a team comprising of dental specialists, general dentists, dental nurses, former dental practice managers, CQC compliance managers, NEBDN examiners and more. Everyone at SmileWisdom comes from a dental background, adding their unique knowledge and experience for the benefit of all our students.
The SmileWisdom NEBDN Diploma in Dental Nursing course quickly became popular and in 2017 a new home was required for the ever-growing academy. The building that is our home today, the British Dental Association on Wimpole Street in Central London, is at the heart of UK dentistry. We are proud to offer our students the opportunity to train at such a prestigious location steeped in dental history. Since 2017, we have launched and run many professional CPD and NEBDN-approved courses, with hundreds of students across the UK becoming qualified dental nurses through SmileWisdom.
2020 was a busy year at SmileWisdom. We hit a milestone of 200 students enrolled in the academy and added our first postgraduate course to the curriculum. The idea of adding SmileWisdom Recruitment also started to form. Mike was devoted to developing a way of assisting dental nurse students with finding jobs in dental practices. The project quickly evolved and in 2020 a niche Job Board was created, giving trainee and qualified dental nurses a unique opportunity to specify their skills and experience to find a perfect match with potential employers.
In March 2020, adapting to the COVID-19 pandemic, SmileWisdom became the first London dental college to successfully run all lectures live online; creating virtual classrooms so that students could login and attend lectures at their usual times, with their classmates, and feel – almost – as if they were attending real lectures. For the first time, students outside of London started enrolling and joining the lectures; meaning our outstanding education became accessible to aspiring dental nurses UK-wide.
2021 saw us launch our NEBDN Certificate in Oral Health Education. This popular course for qualified dental nurses added to our portfolio of NEBDN-accredited postgraduate courses. Excitingly, we launched our recruitment consultancy service and also added 12 essential eCPD courses to our range of CPD courses. Meanwhile, the job site became the largest dental nurse job site in the UK. In November of the same year, we joined forces with learndirect to create a dental faculty to cater to even more dental nurse students. 2021 was a busy, productive year for us!
Thanks to our expanded dental faculty, we now provide a wide portfolio of courses, including 6 postgraduate courses, and our student numbers have grown to over 1900. In addition to our online tuition, we are now back in the classroom face-to-face with our learners.
Today, thanks to the effort that our fantastic directors, world-class tutors, and the exceptional dental faculty team make every single day, SmileWisdom is the UK's largest dental nurse training provider. We have dedicated markers and verifiers, CV advisors, job support webinars, and graduate clubs, making us quite unique in the business. The SmileWisdom Job Board, with over 1000 jobs, is the only platform in the UK specialising exclusively in jobs for dental nurses and practice support staff. We are proud to work with the top 6 corporate and medium-sized dental groups to share their job vacancies. We think that's some amazing achievements to date!
Not content with all that, we are constantly looking to innovate our offering and provide more interactive platforms for learners to improve their experience. We aspire to be accessible, informative, relevant, and encouraging to dental students, dental professionals, and practices alike. Nurturing expertise and changing people's lives, and careers, is what we do best.

SmileWisdom has the privilege to be the only Dental Academy running The NEBDN Dental Nursing Diploma at The BDA. The British Dental Association is the home of UK dentistry and we are proud to offer our students the opportunity to train as this prestigious location.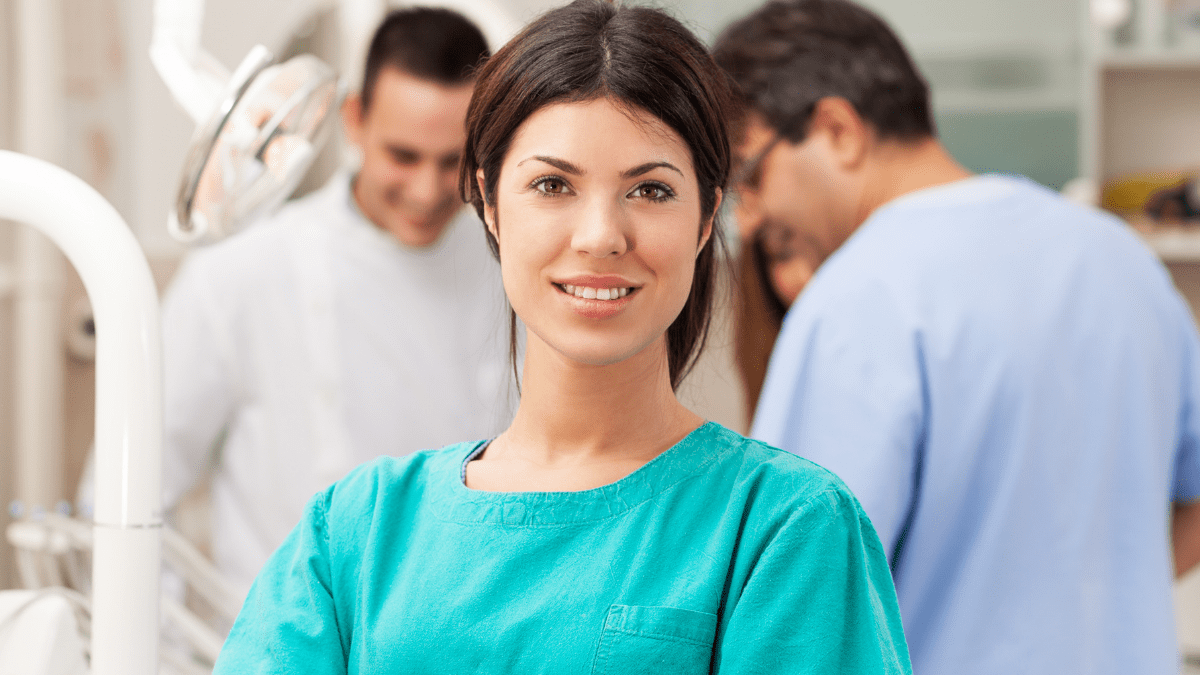 Previous Student Testimonials
The thorough explanations, the brightly coloured drawings and charts, the silly jokes, all these combined, make our learning experience more captivating! I will do my best not to dissapoint her on my final exam. And in addition to that, I just want to say that I am impressed with the way everyone is so organised. We are always updated about the location where the classes are held and we are also given travel indications! That's really handy