Dental Partners – 'Best Place to Work'
Dental Partners is a dynamic and fast-growing network of 65 dental practices located across England. Their approach to corporate dentistry is unique in that they recognise a valued and happy team makes for excellent dental professionals.
Their 'Best Place to Work' ethos is at the core of everything they do. As Neil Lloyd, CEO of Dental Partners, says,
"…we are nothing without our dental care professionals, so we want to create the best place to work to ensure we recruit and retain the very best. Having the best guarantees that we deliver excellent patient care and choice."
Dental Partners are focused on nurturing a supportive and friendly work environment to have a positive and far-reaching impact on so many levels.
How you can join Dental Partners
Whether you are a qualified dental nurse or have just decided to become one, you can join the Dental Partners and start your exciting career journey.
Team building with dental talent in mind!
Dental Partners' commitment to creating a productive and fulfilling workplace is what sets the group apart. Their vision is built around engaging and supporting individuals to build empowered teams with clinical freedom, allowing for a higher standard of care for both NHS and private patients.
Their internal training programme, Best Place to Learn Academy, ensures professional development is a top priority and actively encouraged at every stage.
Dental Partners are also keen to financially support outside learning, encouraging team members to upskill where possible and keep up-to-date with new developments in dentistry. When it comes to expanding the team, Dental Partners are keen to work with employees through their trainee development bonus and refer a friend schemes.
Benefits of joining Dental Partners
Join the team at Dental Partners and enjoy some of the following benefits:
GDC registration, indemnity and CPD paid
Starting bonus
Excellent hourly rate
Invested support with your professional training and development
Rewards and recognition
Comfortable uniform provided
Welcoming, diverse and respectful workplaces with a social conscience
Perks, discounts and cashback through their benefits platform
£50 birthday voucher
Supportive, inclusive work environment with regular staff satisfaction surveys; the most recent revealed 87% of employees say they receive full support from their teams
Rated 4.3/5 on Indeed
Fun workplace with charity initiatives, events, parties and annual conferences
Opportunities to give back via their community and charity initiatives
Paid study leave
Relocation and roaming opportunities
Wellbeing community and online support; helping employees and their families look after their wellbeing and mental health through daily meditation techniques, healthy eating ideas and even mortgage and budgeting advice
Encouraging workers to have their say – establishing communication channels, having a consultative approach and regularly seeking feedback
How you can join Dental Partners
               Dental Partners Staff Gallery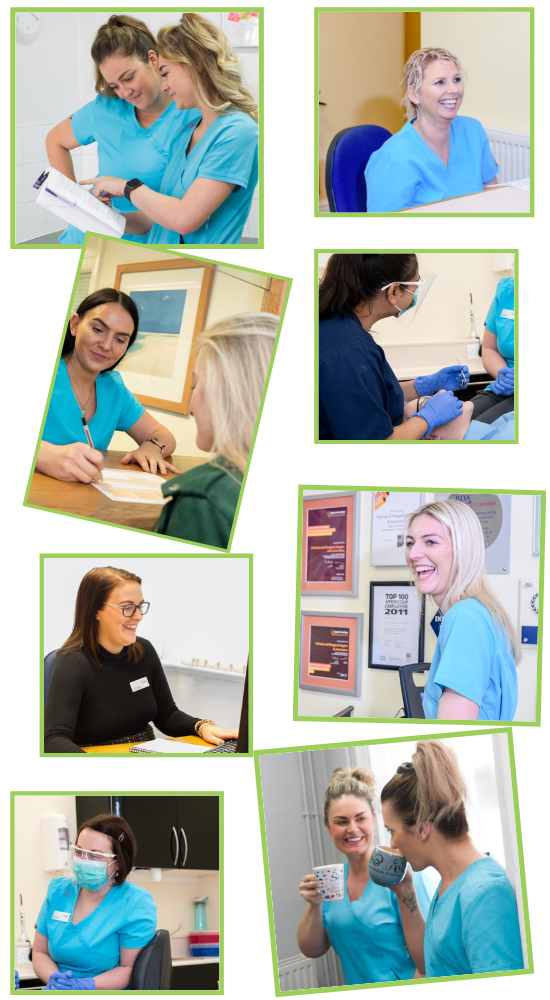 What's it like to work as a dental nurse with Dental Partners?
Emily Spencer has been a dental nurse, and more recently an Assistant Practice Manager, with Dental Partners for 9 years. Working for Dental Partners has opened many doors for her and allowed her to progress her career. She says of Dental Partners, "They have this philosophy of 'Best Place to Work'. It is what it says really, they [provide ongoing] opportunities to help progress our skills, which is brilliant."
When it comes to working in any dental practice she says, "Teamwork is essential for a great dental practice, you need to have everyone on the same page of what's happening, how we're running the clinic and what we're saying to the patients."
Emily loves the variety of her role, knowing that there's something different every day is what makes her job so enjoyable. "For me it was all about discussing with my manager what I was doing and is there a step up from what I'm doing at the moment? To have that conversation is really important, to know what is available to progress [and develop]. My manager is amazing, she will support anyone that will strive to reach that sort of level."